Individual training and qualified advice (free for hotel guests)
Regardless of whether cardiovascular, muscle building, or endurance training. We offer everything for a coordinative whole body workout on 270m2. Our NEW gym (Opening February 2019) offers a wide range of options in the 4 training areas - Cardio, Strength, Functional & Health. With more than 40 LIFE FITNESS & HAMMER STRENGHT training devices, every sports enthusiast has the latest generation of equipment available. If that's not enough, you can exhaust yourself at one of our many group courses.
Opening hours:
Mon - Fri 07:00 - 22:00
Sat / Sun / public holidays: 10:00 - 22:00
Usage: for hotel guests free of charge
Membership monthly incl. Large course offer: from 36, -EUR per month
Training atmosphere full of fun, excitement and energy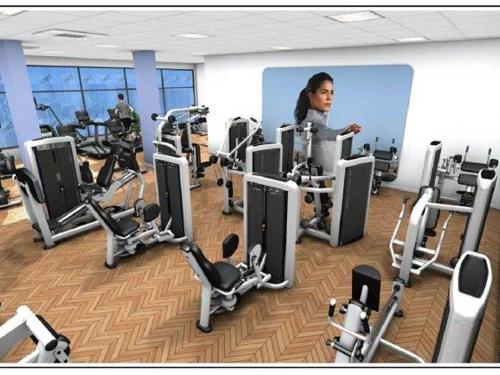 Cardio:
• Our devices are equipped with a TV function (no excuses when football is on TV :-))
• There are two variable crosstrainer ,
Powermill (Endlostreppe), various bikes, cross fit bikes and a rowing machine available
• Total: 14 devices
Healthcare / Equipment Training:
•
Easy adjustment and operation
• Muscle groups are optimally stressed by a variety of devices
• Repeat counter & time function for a better workout overview
• Total: 25 devices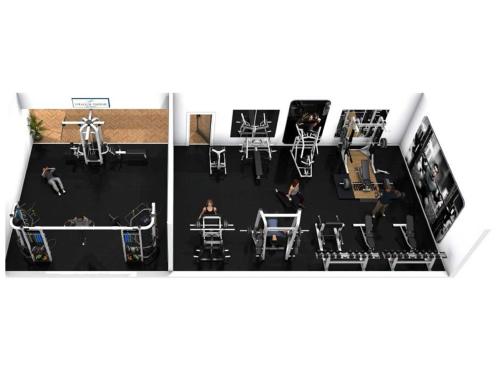 Force:
• A separate area for weight training with first-class Hammer Strenght equipment Series is ready
• Devices include Iso-Lateral (excellent for muscular imbalances)
• The weight is almost unlimited
• Total: 7 devices
Functional:
• Functional elements with unlimited versatility and modular fit
• Whether cable motion, medicine ball, robe, TRX, or ball dumbbells
• Training with your own body weight
Be stronger than your strongest excuse! Here's the wish weight ...