Moor - gentle medicine from nature for your health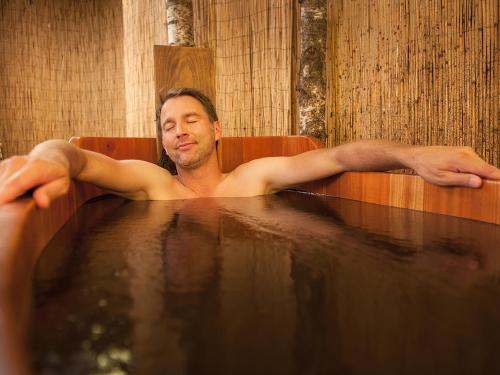 Our moor, the black gold

Moor has been shown to have anti-inflammatory, analgesic, hormone and muscle relaxant properties. The "Black Gold" from Bad Wurzach is so a valuable aid in prevention and rehabilitation.

Soothing warmth
Moor , the power of thousands of years, and thermal water gives healing moor - our healing formula for moor baths and moor packs. Enjoy in peace how new vitality and energy flow through your body during the application.

The unique feature of the moor is its enormous heat storage power, it gives off the heat only very slowly. During a mud bath up to 41 ° C, the body temperature rises evenly up to 39 ° C. A medical fever develops, which strengthens the body's own defenses and activates the self-healing forces sustainably. In addition to the excellent ability of heat storage but also make the highly effective organic acids and precious minerals from the bog an inimitable remedy.


Moor - Health, buoyancy for body, mind and soul
Pain relief is especially experienced by rheumatism patients. The natural buoyancy of the moor relieves muscles and joints, in addition, the synovial fluid is liquefied and the joint is better nourished. Moor ensures better blood circulation throughout the body and calms the entire nervous system.
Health and healing power from 800 meters depth
Bad Wurzach is one of the youngest thermal baths in Baden-Wuerttemberg. The thermal water was drilled in 1994 and has been used therapeutically since 1996.
About 12,000 years old, the beneficial source bubbles up as fluoride-containing sodium bicarbonate water at a temperature of 34 ° C to the earth's surface.
Here it unfolds its beneficial effect in many Bad Wurzacher indications such as rheumatic diseases, joint, intervertebral disc and spinal column complaints or osteoporosis.
Composition of the water
ph value: 8.7
Sodium: 213.0 mg / l
Potassium: 1.7 mg / l
Calcium: 4.4 mg / l
Magnesium: 1.7 mg / l
Iron: 0.55 mg / l
Chloride: 14.0 mg / l
Hydrogen carbonate: 508.7 mg / l
Fluoride: 3.4 mg / l
Your cure with us
You can find out what your path to the cure looks like and what you should know about talking with your doctor and your health insurance provider under the following link in the pool calendar .