Relax, recharge your batteries and recover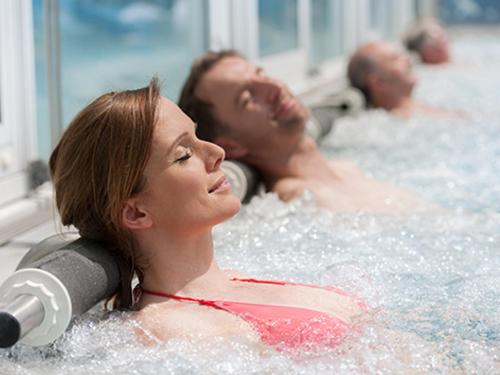 The thermal bath landscape with indoor and outdoor pools, bubble benches and massage jets invites you to relax and linger. The conservatory with views of the countryside and the sundeck on the outdoor pool provide a real wellness and well-being atmosphere.
In the generously designed sauna landscape there are four saunas to choose from: a Finnish sauna
(95 ° C), a Finnish sauna with colored light (80 ° C), a bio sauna with colored light (50 ° C) and a Roman steam bath (60 ° C). There is something for every sauna type.
The cooling zone ensures individual refreshment after every sauna session. A wonderful sauna garden and the light-flooded relaxation rooms with comfortable sunbathing areas round off the sauna.
Wellness at its best awaits you in the Wohlfühlhaus. Nourishing cream oil baths, from Cleopatra bath to rose petal bath and various wellness massages are offered here. Let yourself be pampered with a singing bowl or a herbal stamp massage. Oriental is `s at a hammam massage or Rasulbad, the unique beautiful" bath of the prophets ". Click here for the offers of the Vitalium-Therme .